HIVE
Solutions for Big Data
4 available modules:
CORE for Processing
NET for Communication
DATA for Storage
GPU for AI/DL
2 times more productive
1 scaleable solution

WHAT IS HIVE?
Designed for the pragmatic, biology-focused scientist, the HIVE platform boosts productivity in microscopy facilities and screening labs.
HIVE is a High Speed Centralized Data Repository that removes the need to constantly move or duplicate data sets in processing and analysis workflows.
Its modular design integrates high speed processing, visualization, remote access, project management, flexibility, data security, scalability and ease of use in one unit.
It saves on time space, costs and administrator workload.
HIVE MODULE CONFIGURATION
The HIVE is a modular platform optimized for image processing and data handling. For each facility we combine the corresponding HIVE modules for optimal data processing efficiency. If you require more storage, processing power, dedicated network bandwidth or a custom solution, we can simply add more modules at any time.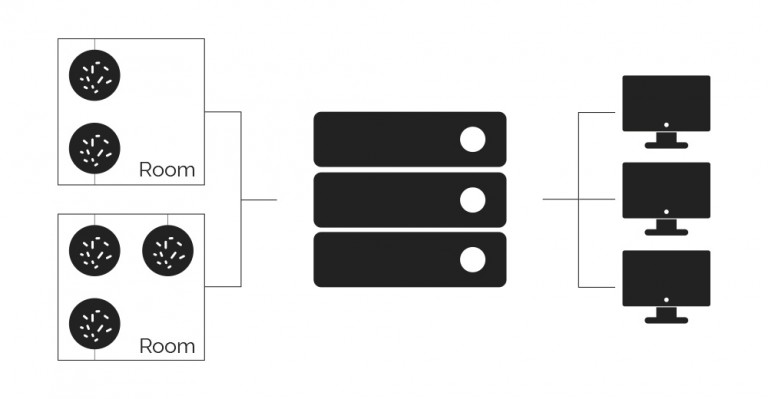 HIGH SPEED MICROSCOPE EXAMPLE
Lightsheet microscope
Large format sCMOS
Laser scanning
confocal, Spinning disk, Screening microscope
3 HIVE modules recommended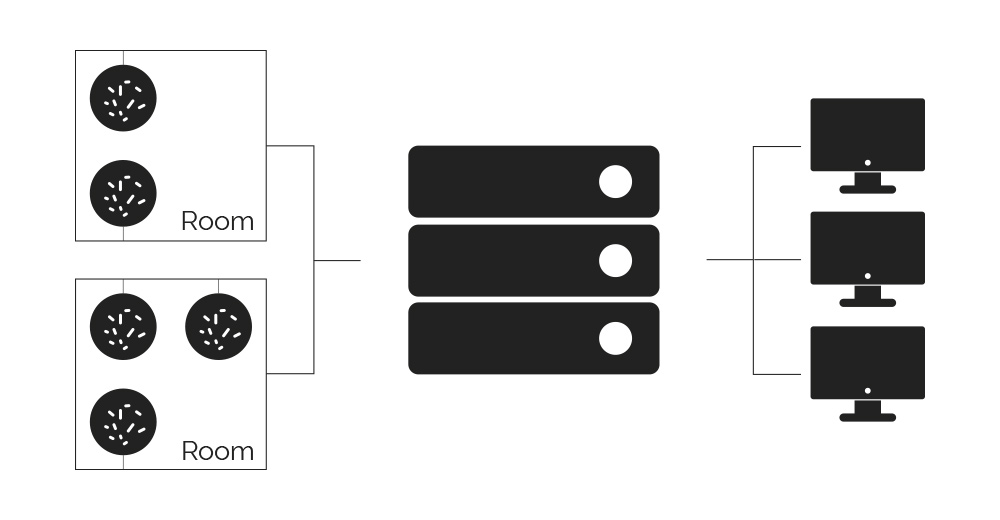 SMALL CORE FACILITY EXAMPLE
1 to 2 rooms
up to 5 microscopes
up to 3 Image Analysis workstations
3 HIVE modules recommended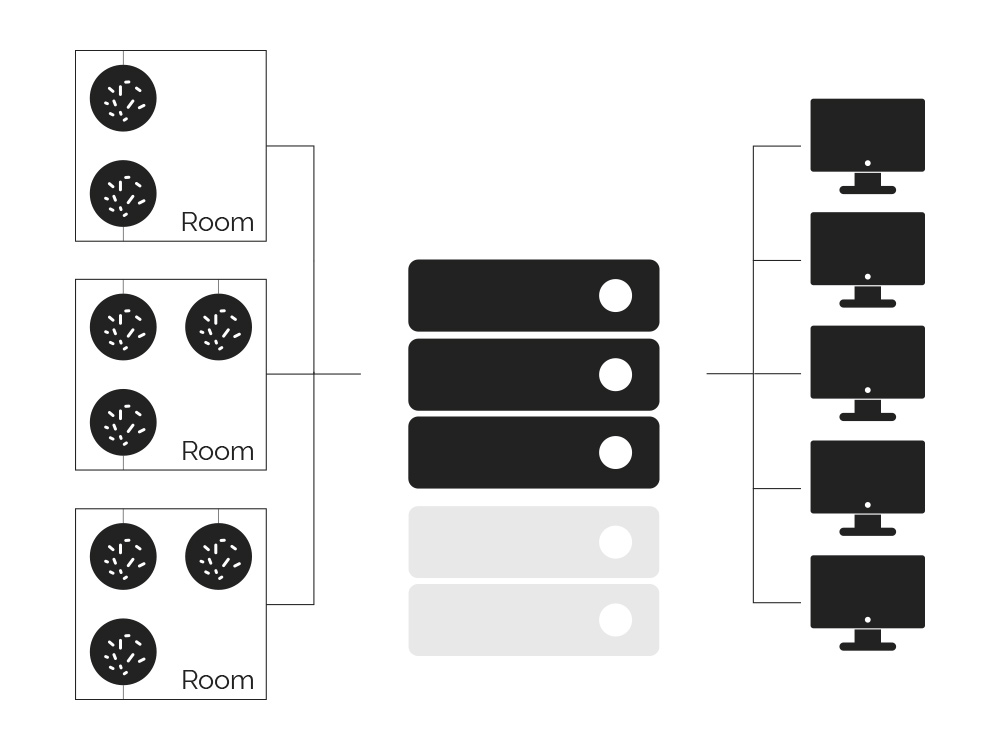 MEDIUM CORE FACILITY EXAMPLE
3 to 4 rooms
5 to 10 microscopes
up to 5 Image Analysis Workstations
5-7 HIVE modules recommended (depending on microscopes)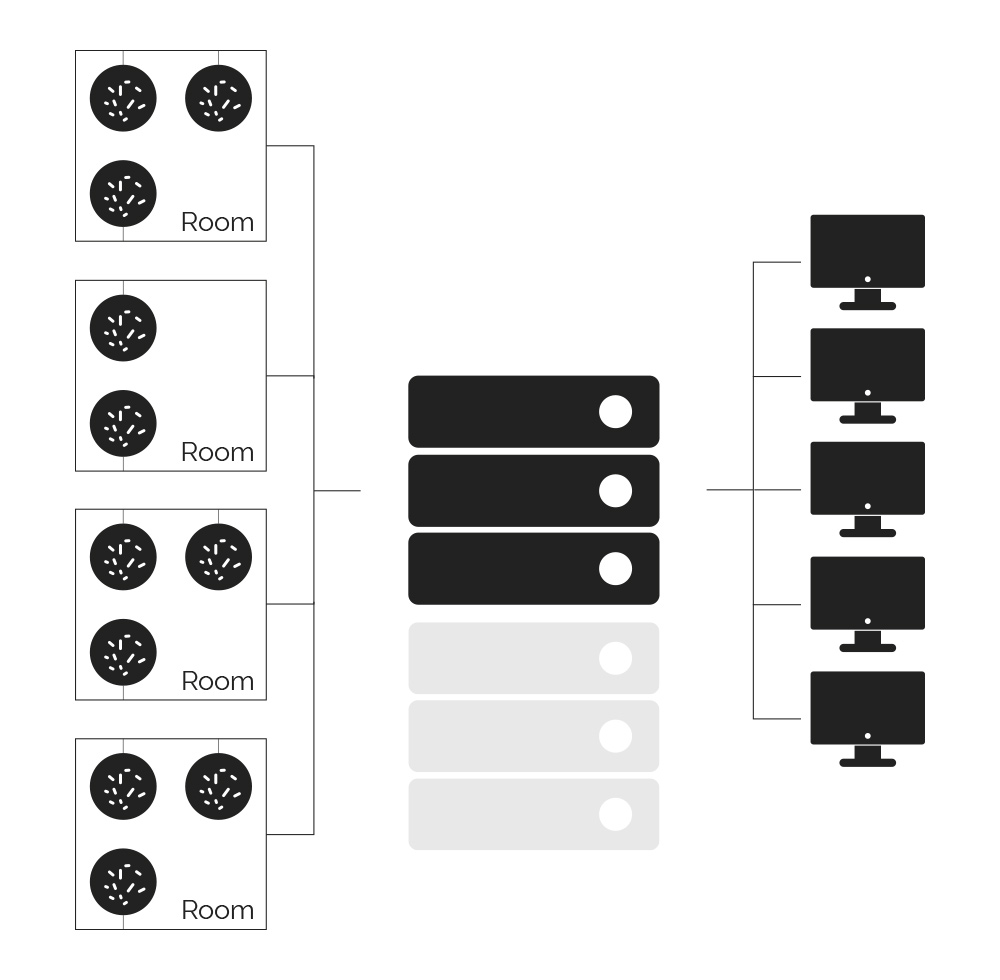 LARGE CORE FACILITY EXAMPLE
4 to n rooms
15 microscopes
5 Image Analysis Workstations
6- n HIVE modules recommended (depending on microscopes)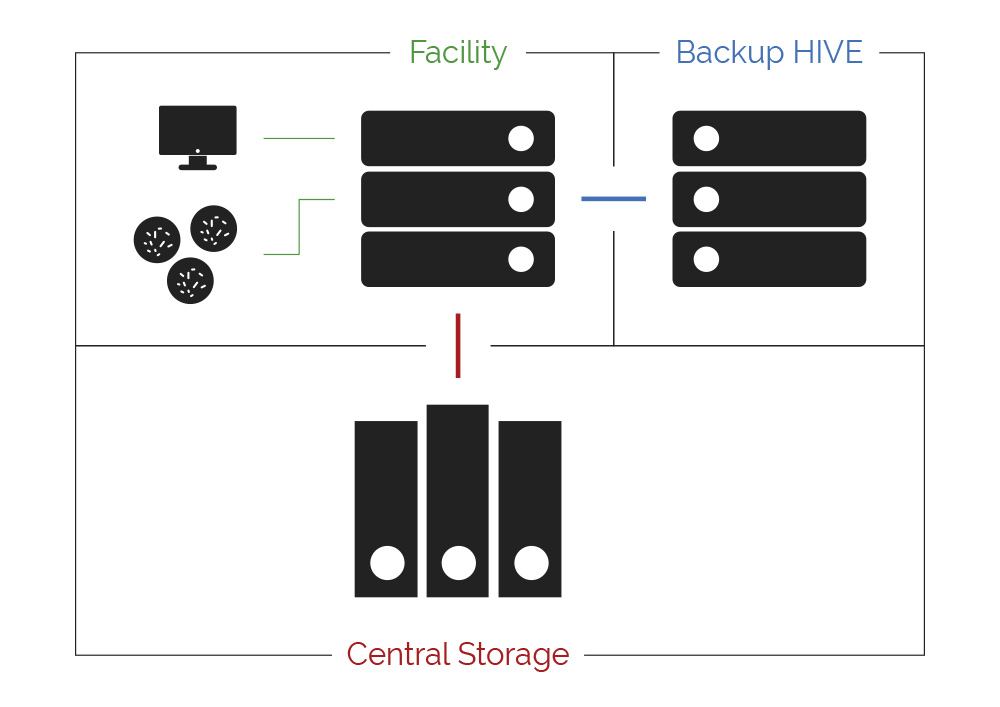 HIVE WITH BACKUP
a distant installed HIVE or
to the local Central Data Repository.
PROCESSING & ANALYIS
The HIVE´s operating System is Windows 2019 Server.

Highly stable to work with huge amount of data and flexible basis for almost all Win7/8/10 software applications. Our selected processors balance the requirements for multi user usage and optimal image analysis relying on high count rates and vast number of cores. Typical software packages are e.g. :

Arivis Vision4D
Bitplane Imaris
FIJI
ImageJ
Leica LAS X
SVI Huygens
Microvolution
Zeiss ZEN

For packages requiring multicore processing or in need of specific high-end-GPU we recommend a HIVE Core with:

up to 1 TByte DDR4 RAM
10 + 10 Core CPU/ 20 + 20 Threads
up to RTX 6000 with 24 GB GDDR6 RAM
up to 2 x 10 Gbit/s Copper Ethernet
THE HIVE MODULES
A HIVE is a modular system based on three building blocks. Each one is an optimized unit for one of the three key data handling tasks in imaging & microscopy applications: Computation – Networking – Storage.
HIVE CORE FOR DATA PROCESSING
High-Performance CPU & GPU for best image processing & analysis
VPN based remote desktop access
2×10 Gbit/s copper or 2×10 Gbit/s optical fibre (optional)
Up to 1 TB DDR4 RAM
10TB Data safe storage with RAID5
Starting from:
2,2GHz 10-core CPU
128 GB DDR4 RAM
Nvidia Quadro RTX 4000
Windows Server 2019
10 TB SSD RAID5
500 GB NVMe SSD for page file
2×10 Gb Network
HIVE NET FOR NETWORKING AND SECURITY
Integrated router and firewall to create a secure HIVE network for hosting the connected devices
10Gbit/s 16-Port Network Switch with a 320GB/s backbone to ensure a reliable exchange of large data sets
UPS battery buffered power stability system to stabilize the power supply and to ensure a safe shutdown in case of power outage to prevent loss of data
Security and firewall provided by router
320 Gb/s backbone
Gb router
Battery Backup for data safety
VPN Access
HIVE DATA DATA REPOSITORY
RAID6 secure data storage with fast access to large data
File system optimized for large data storage, reliable access to your data and maximum system stability
User friendly operation through standard Windows functionality with no need for specialized IT knowledge
Open Design allows for easy up-scaling of storage volume
RAID6 array in 52, 78, 104 or 130 TB
Connectivity via Host Bus Adapter @ 4x 12Gbit/sec
Plug-and-play expansion of storage
Data collection rates starting from 800 MB/s
Hotswap Disk Replacement
HIVE GPU RENDERING / AI UNIT
GPU extender box
no special driver needed
up to 3 HIVE GPU for a single HIVE CORE
HIVE Core synchronised power on / off
1000 W power supply
PCIe x16 exteneder
Up to 8 single or 4 double sized GPUs
Up to 504 TFLOPS
HIVE CONNECTIVITY
A HIVE creates a firewall protected DHCP network for the connected microscopes and other data sources.
In a standard configuration, the HIVE provides 13 local 10GBit/s connections and can be connected to the local IT environment.
An optional 2 x 10 Gbit uplink connection can be installed for high speed data traffic. This may be required to connect to local backup or permanent storage servers
| | HIVE modules | NAS storage | Workstation | Server | Cluster |
| --- | --- | --- | --- | --- | --- |
| | | | | | |
| image processing (CPU + GPU) | | - | | - | |
| basic storage 10 / 20 TByte | | | | | |
| storage expansion module 50 TByte | | ? | ? | ? | ? |
| storage expansion module 70 TByte | | - | - | ? | ? |
| storage expansion module 100 TByte | | - | - | ? | ? |
| storage expansion module 130 TByte | | - | - | ? | ? |
| easy storage expansion | | - | ? | ? | ? |
| 2×48 Gbit/s fast storage connection | | - | - | - | - |
| on data visualization | | - | | ? | ? |
| private cloud based remote secure access | | | - | - | ? |
| private cloud project management | | | - | - | ? |
| private cloud user management | | | - | - | ? |
| large data set sync across WAN | | - | - | - | - |
| dedicated 10 Gbit/sec network | | - | - | - | |
| modular configuration | | - | - | - | - |
| hardware secure firewall | | - | - | - | ? |
| self configuring network | | - | - | | |
| user friendly (for non IT experts) | | - | | - | - |
| designed for image processing | | - | ? | - | ? |
| silent cooling – lab ready | | - | - | - | - |
| uninterruptible power supply for data safety | | ? | - | ? | |
| fastest on storage processing | | - | - | - | - |
| active surge protection | | - | - | - | - |
| | | | | | |